Association of Information Technology Companies of Northern Greece
LB (PB1) Association of Information Technology Companies of Northern Greece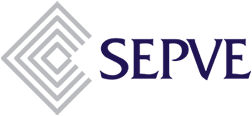 From its foundation until the present day, the Association of Information Technology Companies of Northern Greece has been the only collective body representing the interests and concerns of the information technology businesses active in Northern Greece (regions of Macedonia, Thrace and Thessaly). Today SEPVE proudly numbers more than 200 member enterprises.
Over the 22 years since its foundation the Association has organized a significant number of events, training seminars, conferences and forums, while taking part in an even larger number of such events organized by other associations and agencies. SEPVE has also focused on organizing business delegations to countries in South Eastern Europe. These visits have provided the Association's members with the opportunity to enter into valuable commercial agreements, and to stay abreast of developments in information technology beyond our national frontiers.
Additionally, and in regard to the interaction with the public administration:
SEPVE acts as a consultant to the Ministry of Macedonia and Thrace on the potential for development and exploitation of the information technology businesses of the region.
The Association also acts as a consultant to the four regional authorities of Northern Greece and Thessaly on means of funding small and medium-sized information technology firms, through the implementation of special business plans.
It offers advisory services to the Ministry of National Economy to assist in the more effective development and use of electronic data interchange systems.
The Association recommends and advises the Ministry of Development on new measures, projects and initiatives under the Development Act, with special reference to the information technology businesses of Northern Greece.
SEPVE participated, either as a partner or as co-coordinator, to the following E.U. funded projects:
Aristeia – Innovative Action Programme for Central Macedonia – 2002
New Employment, New E-quality: Promoting Industrial Relations and Social Dialogue in the IT Sector" – 2003
Leonardo da Vinci – Pilot Project "ViPiA (Virtual Pre-Incubator Accelerator)" – 2004
FP6-IST Project " EUROPEAN IST" – 2004
ETI / FP6 -INNOV5 Project SEE-INNOVATION – 2005
ETI / FP6 -INNOV5 Project EASIER – 2005
eBiz4SMEs "Enhancing the Co-operation between ICT Suppliers and SMEs at regional level – 2007
FP 7-SME-2008-2 "µBGA: A Novel System for the Production of World's First Micro Ball Grid Array (µBGA)"
Interreg: SME Pipeline – Creating project pipeline for SME development, financed by EU Structural Funds
Methodologies and tools for the cost-effective development of high quality Web applications for internet – enabled TV Consumer Electronics and IPTV.
Transnational Initiative for Guidance of Graduated and entrepreneurship – TRIGGER
Promoting Environmentally Sustainable SMEs (PrESS)
Website: http://www.sepve.org/
PB2 Centre for Research and Technology-Hellas (CERTH)

The Centre for Research and Technology-Hellas (CERTH), founded in 2000, is a premier research center in Greece that is ranked 15th among EU Research Centers in terms of H2020 Net EU Contribution. As a non-profit legal entity governed by private law, it is supervised by the General Secretariat for Research and Innovation (GSRI) of the Greek Ministry of Development & Investments. CERTH's five institutes are organized around primary fields such as climate change, sustainable energy, AI, advanced robotics, the Internet of Things, holistic healthcare and nutrition, autonomous vehicles, smart cities, and the circular economy. These institutes, namely the Chemical Process & Energy Resources Institute – CPERI, Information Technologies Institute – ITI, Hellenic Institute of Transport – HIT, Institute of Applied Biosciences – INAB, and Bio-economy and Agro-Technology Institute – IBO, bring together over 1,100 highly qualified personnel, consisting mostly of engineers and scientists, across 6 regions and 7 cities. By leveraging its unique research facilities with highly qualified personnel, CERTH transforms scientific knowledge into innovative technological applications with the goal of strengthening the national economy and responding to the needs of society at both national and international levels.
Website: https://www.certh.gr/
PB3 REGIONAL CHAMBER OF SKILLED CRAFTS ASSOCIATION, Haskovo
(Bulgaria)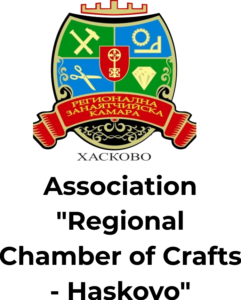 Association "Regional Chamber of Crafts – Haskovo" was established in 2011.
The association was created with the aim of protecting, supporting and promoting the activities of the craftsmen from the Haskovo region. It ensures their equality and represents the interests of its members before municipal and state authorities. It supports the state and municipal administration in their efforts to promote the development of crafts and develop their economic policy and the targeted funding of programs and projects related to crafts.
It supports the development and efficient production of manufactured items, ornaments, decorations, etc., by improving the market and technological environment. The goals are aimed at reaching European standards in the activities of craftsmen. Assists its members in developing their activities by providing various services, such as organizing and conducting bazaars, seminars and creative trainings.
The association and its members have been involved in various projects over the years."Regional Chamber of Crafts – Haskovo" has over 500 members from the region who practice various folk art crafts. The chairman from 2021 is Maria Malchanova.